Braised lamb shank
Fantastic recipe for braised lamb shank with red wine sauce, root vegetables and mashed potatoes
Braised lamb shank is a very good alternative to leg of lamb. You get very tender and tasty meat and the best sauce. Lamb shanks have bones and bone marrow, which give a very good power to the sauce.
Did you also see that cooking food with bone and marrow gives us a replenishment of collagen? It's good for the skin!
Together with the vegetables, veal stock and red wine, you get a sauce that you would like to drink from a glass of milk, so it's good 🙂 It's important to fry the shanks well on all sides before you put them in the pot with everything else, then you seal the good flavors and juice inside the meat, and that the browned crust gives a delicious taste to the sauce.
To braise means to cook browned meat or fish in a pot with a lid in the oven and to which liquid has been added to the dish. You get very tender and juicy meat.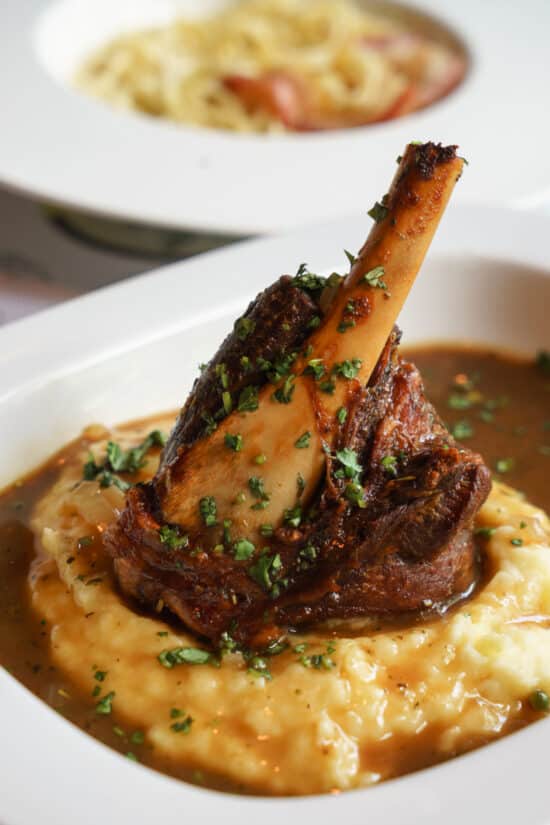 Lamb shank ingredients (4 servings)
4 lamb shanks
8 carrots (4 for stock and 4 for side dishes)
1/2 celery root (1/4 for stock and 1/4 for side dish)
approx. 150 g turnip
1 onion
2 cloves of garlic
3 tablespoons tomato puree
1/2 can canned, crushed tomato
2 dl undiluted Bong veal stock
4-5 dl red wine
1 good sprig of fresh rosemary and thyme
water to cover
salt and pepper
600 grams of potato
150 g dairy butter
a little neutral oil
3-4 tablespoons of creme fraiche
a little cornstarch to thicken the sauce
Here is a recipe for red wine sauce that you can use for steak, duck, cod or other dishes.
---
Lamb shank in the oven – how to do it:
Allow the shanks to come to room temperature for at least 30 minutes before making them. Add salt and pepper.
Cut the onion, garlic, 4 carrots, 1/4 celery root into cubes of approx. 2×2 cm.
Make sticks of carrot, celery root and turnip. Put this in a cold pot and set aside for the time being.
Find a frying pan and a cast iron pot (or pot that can stand in the oven)
melt approx. 50 g of butter in the pan on medium heat, add the vegetables and let them fry until tender and shiny without burning. This takes about 4 minutes. Add the tomato paste and fry everything for another minute, add the herbs, crushed tomato, stock and red wine.
Fry the shanks in a hot pan with oil and butter. Fry them well on all sides and put them into the pot one by one. Fill with water until it covers the shanks, as little as possible. Try to get the shanks at the bottom of the pot and the vegetables above, so that you don't have to add more water than necessary.
Put the pot with the lid in the middle of the oven at 150 degrees for approx. 2 1/2 hours. Take out the pot and check if the meat is tender and comes off the bone. If not, you need to cook a little longer. If so, lift the shanks into an ovenproof dish and cover with aluminum foil. Put back in the oven and turn down to 100 degrees.
Strain the sauce into a new, wide saucepan, reduce the power to about 1/3 or until you think it tastes really good. Season with salt and pepper and add some cornstarch dissolved in cold water to make the sauce a thicker consistency.
POTATO MASH
You can start making this while reducing the sauce. Peel the potatoes and cut them into 4. Boil the tender ones in water without salt. Strain off the water and let them steam well to remove as much water as possible. Melt approx. 50 gr of butter in a saucepan and add 3 generous tablespoons of creme fraiche (can be replaced with sour cream or cream). Add the potato and mash this well together, season with salt and pepper and preferably a squeeze of lemon juice. Fat and acid are a good combination.
ROOT VEGETABLES
Prepare about 15 minutes before everything else is ready for serving. Take out the pot with the root vegetables. Add approx. 50 g of butter and let the vegetables steam in butter under the lid on a fairly low heat for 10-15 minutes. Make sure it steams well but does not burn. Amount of vegetables and butter is a matter of taste and preference, but there must be enough butter so that it does not become dry. You do not need to add water, the vegetables give off a lot of liquid by themselves.
This recipe was created to share one of my favorite dishes with our customers and followers. As we say in Eiendomsfinans; – good solutions are bad secrets. Wishing you an excellent meal – Julianne Skovli Gåsvær, marketing manager and hobby chef 🙂