Boat loan or loan for jet skis
– talk to us about a boat loan or financing certificate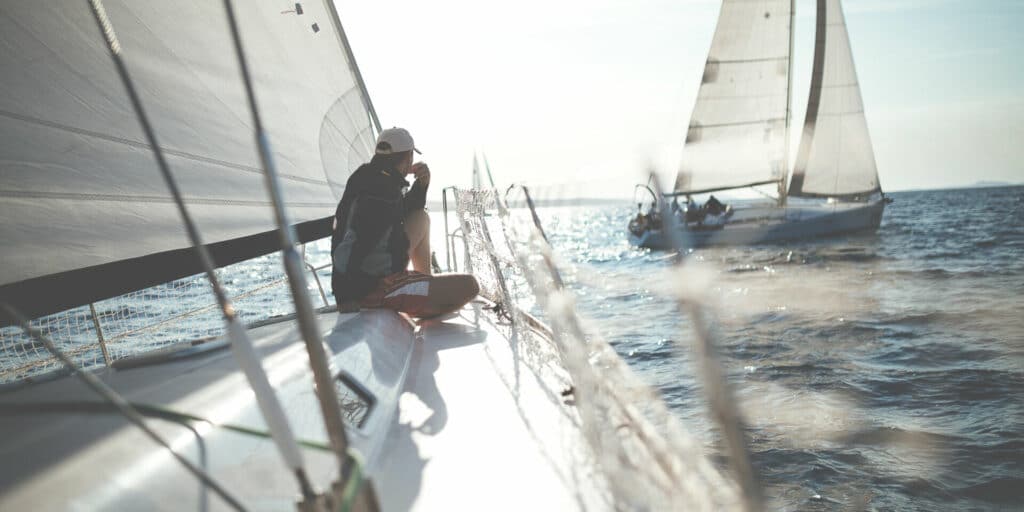 The boat loan that suits you
We help you apply for a boat loan or financing certificate for a new or used boat. There are two different boat registers which also affect your loan terms, and you get the best loan terms for boats registered in the Norwegian Ordinary Ship Register (NOR). However, there is a requirement for 20% equity when buying a boat registered in the small boat register/a boat that is not registered in NOR.
Checklist before you buy a boat
Avoid impulse purchases, find a boat that suits you

Do a needs analysis. Do you need a family boat, do you need berths, or does a bowrider with space for water skis suit you better?

Send us an application for a loan certificate
Size – Are you an experienced or novice boater?

If you are inexperienced you should choose a smaller boat, but not too small. Choose a boat that you master, but with which you can grow.

Small enough for storage on a trailer, or do you need boat space?

If you live in or near a city, you should join a local boat association and apply for a place.

Petrol or diesel?

Diesel is cheaper to consume. Petrol engine produces less vibration and is lighter.

Inboard or outboard motor?

Easier maintenance and cleaning on outboards, often less noise with inboards

Check that the boat is CE marked

The CE mark is visible proof that the boat meets the requirements laid down by the EU directive in terms of health, environment and safety.

Always test drive the boat

Then you get confirmation that all equipment, such as engine, heaters, pumps, anchor winch and navigation equipment is as agreed, if the boat is stable.

Safer to buy well-known brands

Well-known and popular boat types often hold up better in price and can be easier to sell again.

Born after 1. January 1980? Then you must have a boat driver's license

We still recommend everyone who buys a boat to take the boat driving test to increase their knowledge of navigation, sea marks and good seamanship!

Last ned Forbrukerrådets kjøpekontrakt her

This is your security. If you have a watertight contract, you are in a much stronger position in complaints.

Take account of unforeseen expenses

Remember that unforeseen problems with your boat may arise, it can be smart to have a small buffer for unexpected expenses.
Norwegian Ordinary Ship Register
The Norwegian Ordinary Ship Register (NOR) is a public control body where we can register ship lien bonds that ensure the bank's legal protection. Boats over seven meters can be registered in NOR, and it is the customer's responsibility to ensure that the boat is registered. Purchases of newer boats registered in NOR can also be fully financed.
RS Small Boat Register
The RS Småbåtregisteret is run by Redningsselskapet and is a voluntary register for leisure boats. Insurance companies often require registration of these boats.
Loan type depends on where the boat is registered or is to be registered:
You can find updated interest rates here: Price list Brage Finans
Boat under 7 metres
Loans for newer boats without registered security
Up to 80% financing
Loan amount up to NOK 350,000
Up to 7 years of repayment
The boat must be comprehensively insured and registered in the Small Boat Register RS
Boat over 7 metres
Up to 100% financing, financing rate according to individual assessment
Up to 10 years of repayment
1st priority ship bond in the Norwegian Ordinary Ship Register (NOR)
The deed must be registered with the buyer before payment
No requirement for simultaneity (you can borrow the boat later)
3rd man's interest to the bank
Security in trading as the bank fulfills any encumbrances and pays the remainder to the seller
Loan examples boat loan with 35% equity:
Boat loan without ship bond u/23 feet: from 8.45% nom
Price example: NOK 200,000, over 8 years, nominal interest 8.45%, effective interest 10.15%, cost NOK 88,404, a total of NOK 288 404.
Boat loan with ship deposit o/23 feet: from 7.20% nom
Price example: NOK 800,000, over 10 years, nominal interest 7.20%, effective interest 7.76%, cost NOK 343,149, a total of NOK 1 143 149.
Would you like to speak to an adviser about boat loans? Then you can call us or visit one of our offices.